Serving Arden NC Since 1981
Founded in Henderson County, A-American Electric and has been servicing the electrical contractor needs in Arden and the surrounding area for over four decades. We pride ourselves on treating our vendors with respect and fairness, and our electricians consistently deliver the highest quality service to our customers.
Residential Electricians
Our Arden NC electricians offer wiring and repair for new custom homes, remodels, and multi-family units, as well as specialized wiring for generators, home automation, lighting control, and pools/spas.
Commercial Electricians
Our Arden NC electricians offer commercial plans & spec, design builds, parking lot lighting, retrofits, repair, and more. We are scaled to serve industrial electrical needs as well.
If you have electrical needs for your home or business in the Arden NC area, look to the most reliable and efficient electricians for the job.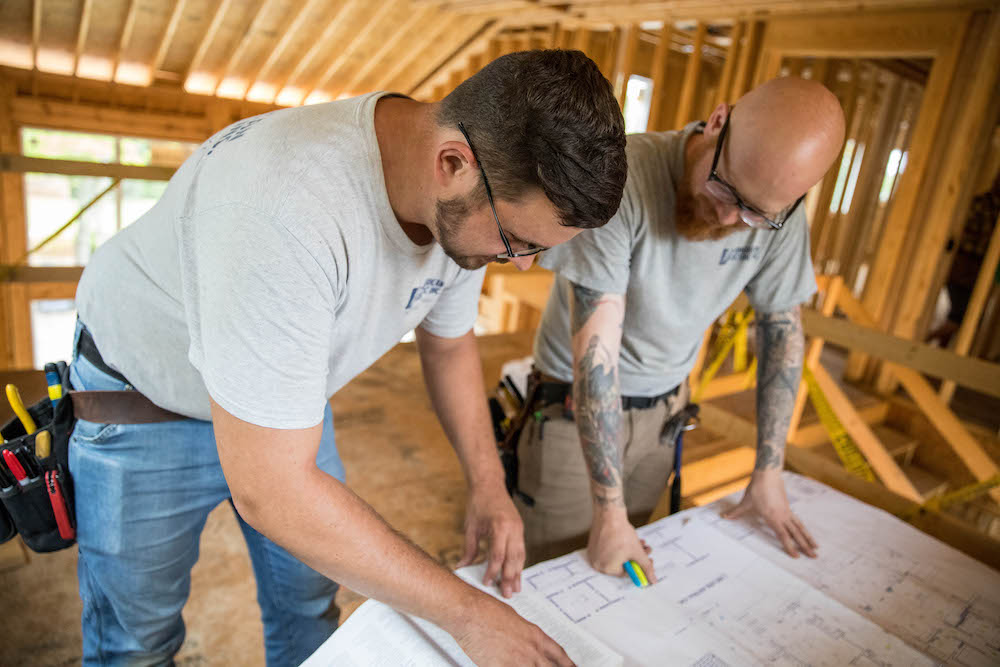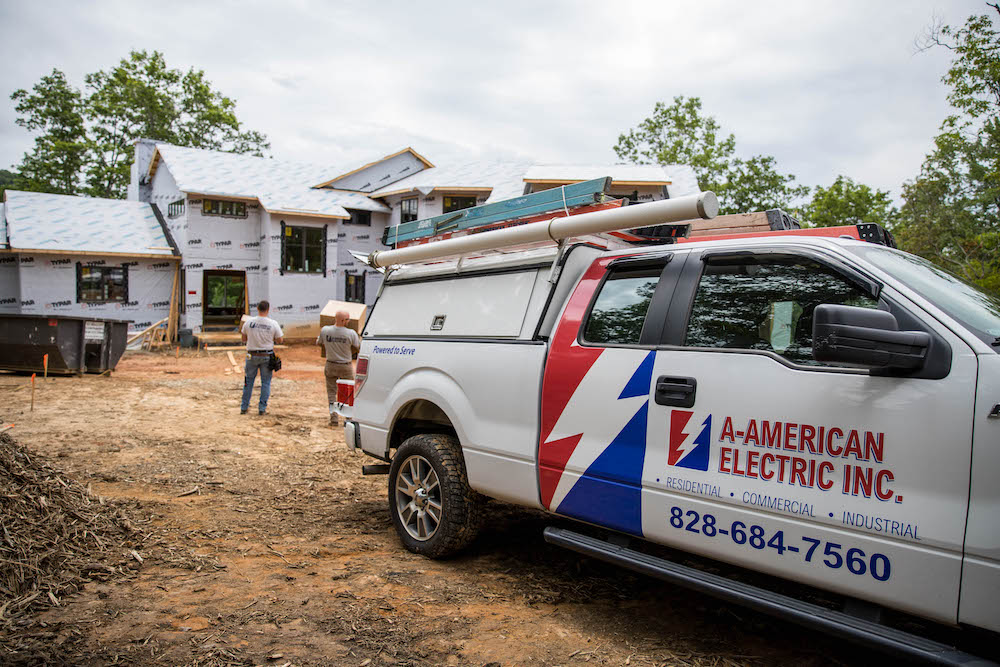 Residential & Commercial Electricians
A-American Electric offers a full range of services for residential, commercial, and industrial properties in Arden NC.
Electrician Service Calls
Residential Services Manager
Jason Hamilton
Licensed Electrician
"Everyday I walk into this place, I know somebody's got my back, and I've got theirs. It makes getting the job done and done right that much easier."
Reach out to A-American Electric for Residential Electrical Service
Our highly-skilled, professionally licensed electricians serve Arden NC and all of Western North Carolina. Request service online and our team will contact you within 24 hours.
Our Dedication To Electrical Safety
AAE's commitment to safety requires three constant efforts:
To invest in the tools and equipment required to maintain such a high standard of safety
To abide by the comprehensive safety manual that we've developed in-house
To oversee all of our safety measures via our Team Protection & Training Director
We live by the motto: Quality protects jobs and Safety protects lives.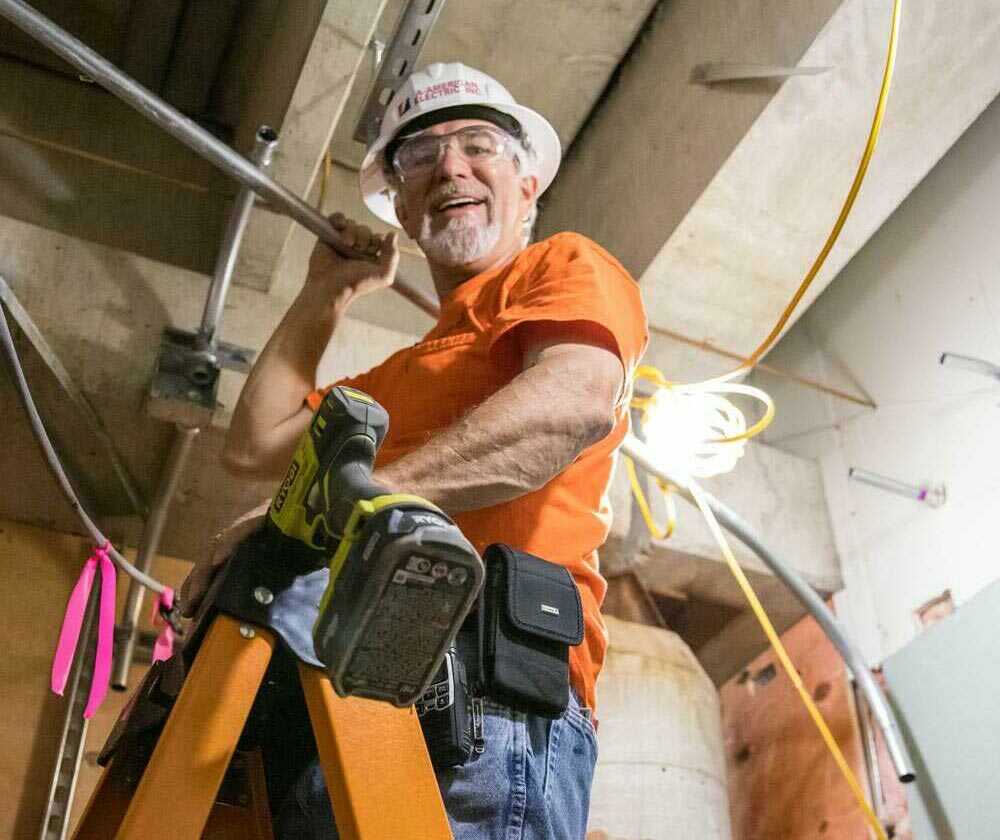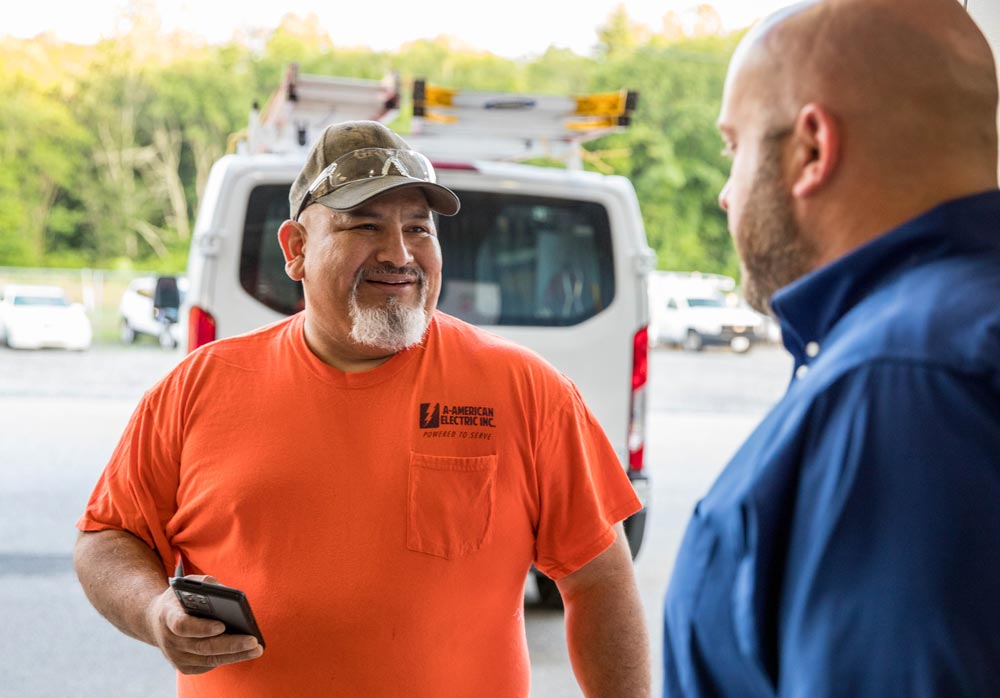 Top Notch Electrical Service
Jobs Done Right The First Time
We don't just say that we provide the best service—we live it everyday. Not only do we show up on time and get the job done right, every professional electrician on our team approaches every job with our six core values.
Who do we work with in Arden NC?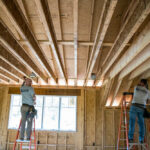 Homeowners
We provide services for all Arden NC homeowners. From custom builds to renovations to service/repair, our licensed electricians will help prevent major electrical problems like power surges, faulty smoke detectors, improperly installed new outlets, and faulty existing outlets.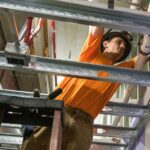 Commercial Projects
We provide services for all Arden NC commercial businesses. Our electrical work includes commercial plans & spec,  design builds, renovations, retrofits, bucket trucks, parking lot lighting, service/repair, and more.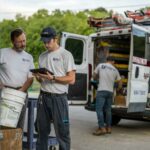 Small Businesses
We provide services for all Arden NC small businesses. Our electrical work spans all industries and environments, from office buildings to food/hospitality to manufacturing.
Verified Reviews From Arden NC Customers
Jason did a good job as team lead/estimator and the crews were as responsive as possible in high demand time for services. Don was very knowledgeable and explained everything to the smallest detail, very helpful. Restored our faith in skilled industries. Thanks!

Positive: Professionalism, Punctuality, Quality, Responsiveness, Value

Services: Electrical outlet & switch repair, Light fixture installation, Electrical outlet & switch installation, Installation, Fan installation, Light fixture repair

– Carl Greenwald

We were very pleased with the work A-American Electric did for us a few years ago so I did not hesitate to call them when another kitchen ceiling light needed a new ballast. Stewart and his assistant were courteous and very professional. Thank you for providing our community with good workers who are a pleasure to interact with. I will definitely call A-American for any electrical issues in the future!

Positive: Professionalism, Punctuality, Quality, Responsiveness, Value

Service: Light fixture repair

– Jocelyn Wakefield

Called on Monday requesting service to replace existing florescent lights with recessed lights. Didn't expect them to have time to do it for several weeks given how busy everyone is. They sent someone out WEDS am first thing. Had the job quoted within an hour... and had the job finished by noon. Excellent quality and service at a reasonable price. Could not recommend highly enough!

Positive: Professionalism, Punctuality, Quality, Responsiveness, Value

Services: Light fixture installation, Electrical outlet & switch repair

– Scott Hakes

We had an electrical outlet issue at our house that needed to be repaired. I called A-American and spoke with Robert. He somehow worked worked a miracle to get a crew to our house within 30min. The technicians were extremely professional, kind and helpful. John was one of the techs and he was a super nice guy. They resolved the issue quickly. They even made recommendation for an appliance repair company that was great to work with and came out the same day. All in all a trustworthy company who does what they say they're going to do, when they say they're going to do it. Highly recommend.

Positive: Professionalism, Punctuality, Quality, Responsiveness, Value

Services: Electrical outlet & switch repair, General electrical repairs

– Taylor Farman